Twin Cities Radon Testing Specialists
Amerispec® Home Inspection
Radon. It's a deadly gas that can invade your home without you ever knowing, until it's too late. However, you can avoid the impacts of this silent killer by having AmeriSpec Home Inspection Service of Bloomington MN conduct thorough, professional radon testing.
As of January 2019, the Minnesota Department of Health has regulated radon testing and mitigation in Minnesota. All our employees at AmeriSpec have obtained their license and are registered with the Minnesota Department of Health to conduct radon testing.
The importance of radon testing
1 in 3 Minnesota Homes Test High for Radon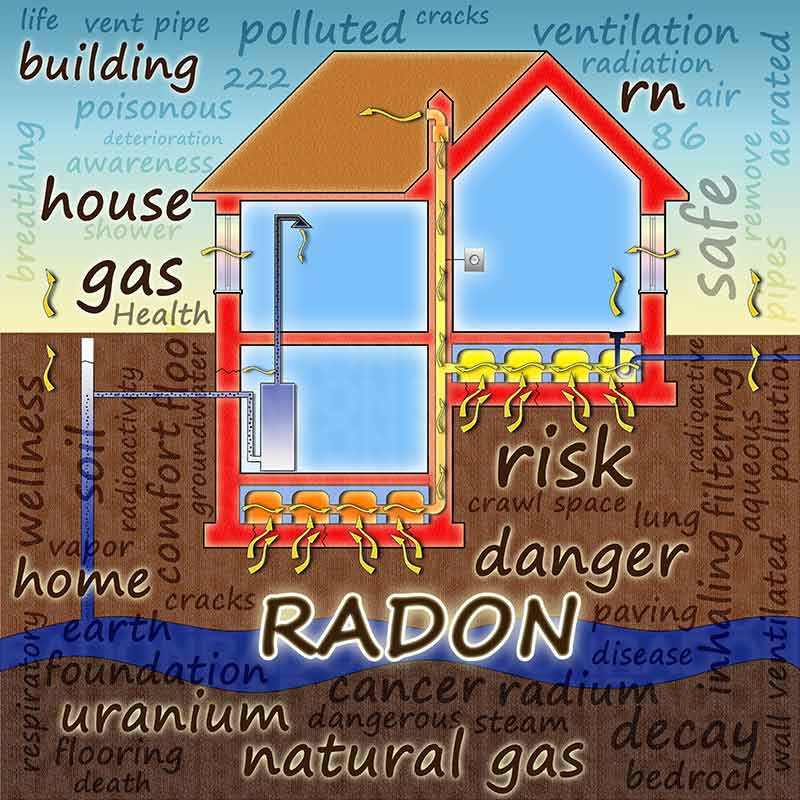 Whether you're a homebuyer or seller or a real estate professional, it's important to have the structure you're looking at buying or selling tested for radon. Consider the following reasons:
Radon is the No. 1 cause of lung cancer among non-smokers.
It's also the second leading cause of cancer in America. The following have recommended homes be tested for radon: the Surgeon General, Minnesota Department of Health, American Lung Association and EPA.
Radon testing can save homebuyers money.
If a radon test reveals high levels of radon, the buyer will often ask the seller to install a radon mitigation system. While these systems are highly capable of lowering radon levels, they are expensive, costing thousands of dollars. Therefore, if you don't have the structure tested for radon before buying, and a later test reveals high levels of radon in the home, the cost of installing a radon mitigation system is your responsibility.
Radon Testing for Home Seller Inspections
Looking to sell your home? Before you place it on the market, you may want to think strongly about having the structure tested for radon. This can provide you with a better, thorough understanding of what may be discovered by the buyer's inspector, and give you the opportunity to make necessary repairs in order to give the house a better chance at selling.
In Minnesota, two in five homes have radon levels that pose a significant health risk, and nearly 80% of counties are rated High Radon zones.
Radon Mitigation
EPA recommends installing a mitigation system in homes with radon gas levels of 4.0 pCi/l or higher. Radon mitigation systems use a fan to continuously pull air from the soil and vent it outdoors to reduce concentrations below 2.0 pCi/l. The pipe can either run inside or outside the home and vent outside, away from windows and openings. After a mitigation system is installed, the home should be re-tested within 24 hours to 30 days to verify radon concentration reduction.
AmeriSpec Home Inspection Services partners with SWAT Environmental for your Mitigation services. We'll contact you with SWAT Environmental's information if your radon levels are high and arrange your re-test after installation. You can also find a list of certified mitigators on the MDH website.
Radon Facts & Myths
Scientists don't know radon is a problem.
Although some scientists debate over the number of radon-related deaths, all the major health organizations – the CDC, American Lung Association and more – agree radon is the cause of thousands of lung cancer deaths every year.
Radon is only found in certain types of homes.
It's reported by experts that radon can be a problem in all types of homes, both old and new.
It doesn't make sense to test for radon if you've lived in your home for a long time.
The risk of lung cancer is reduced when radon levels are reduced, even if you've lived in a home with an elevated radon level for many years.
Only certain areas of the United States have radon.
Radon has been found in every state, while levels can vary within a local area. Minnesota is in a hot zone for radon so 1 in 3 MN homes tests high vs. 1 in 15 nationwide. The only way to know levels in a specific home is test for it.
You can get a good indication of radon levels in surrounding home from a neighbor's test result.
The only way to know the levels in your home is to test for it, as radon levels vary from home to home.
Call us today at 952-854-5110 for more information or to schedule a radon test!